News Archive: | 2016 | 2015 | 2014 |
2015 News
December
25/12/2015: MERRY CHRISTMAS from R-TEK
R-Tek Motorsport Services wishes everyone a very Merry Christmas and a Happy New Year, please drive safe and leave the racing to the race-track. See you all in 2016.

---
October
18/10/2015: ROUND 7, Legge finishes the year fastest as Kumar seals 2nd
Roland Legge has finished the year with the fastest lap on his way to 2nd place in the feature race at the final round of the 2015 Australian Formula 3 Championship at Wakefield Park. Legge had the pace all weekend being fastest also in practice as the two Championship contenders fought for the title. After missing 2 rounds earlier in the year Legge finished a close 4th overall in the series having developed the new Dallara F308 throughout the year with no testing, certainly an inviting prospect for 2016.
Nathan Kumar meanwhile did enough to secure 2nd in the National Class earning the respect of all of his fellow racers throughout the year. Kumar was voted a clear rookie of the year and is certainly an exciting prospect also for the 2016 season.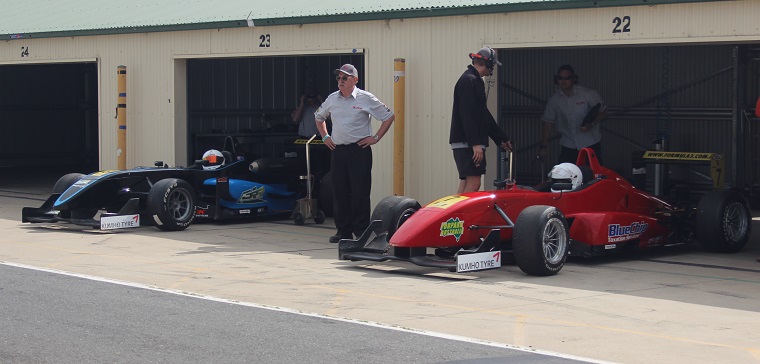 ---
September
20/09/2015: ROUND 6, Kumar shines at the Island, Legge hits Trouble
The two R-Tek drivers Roland Legge and Nathan Kumar qulified 4th and 5th respectively for round 6 at Phillip Island. Kumar showed his true potential with his best results so far winning the National class in races 1 and 2 with lap times not far off the Championship class cars, his new found confidence however ended in the grass in the feature race. Legge finished race 1 4th and led early in race 2 before a gearbox gremlin put an end to his day.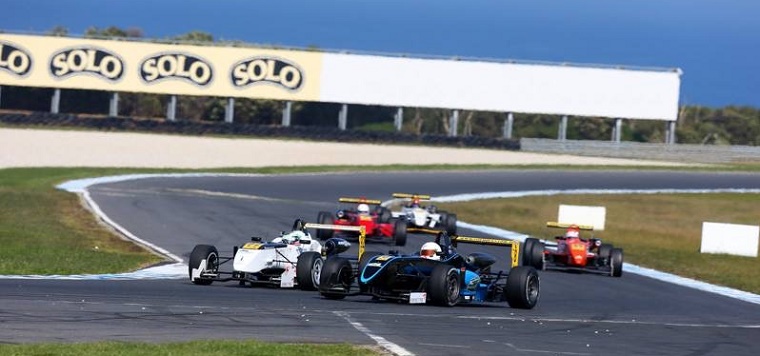 ---
August
09/08/2015: ROUND 5, Legge wins as R-Tek field 4 cars in Queensland
Roland Legge has become the latest race winner of the Australian Formula 3 Championship winning race 1 as R-Tek Motorsport Services had a busy weekend fielding 4 cars in Queensland. Legge was just pipped by Championship leader Jon Collins for Pole position, Roman Krumins and Nathan Kumar were 8th and 9th respectively whilst Keegan Brain was 12th in his Formula 3 debut. Legge got the jump on Collins at the start and was never troubled taking his first outright win, Krumins won the National class whilst Brain was 3rd in the Kumho Cup class.
The highlight of the season so far was the feature race battle going 3 wide wheel to wheel down the main straight, unfortunately this led to Legge hitting the dirt eventually recovering to finish 3rd. Legge did however manage the fastest lap in all 3 races, Krumins and Kumar (who's luck appears to be improving) finished 2nd and 3rd respectively in the National Class and Brain was 3rd in the Kumho Cup class.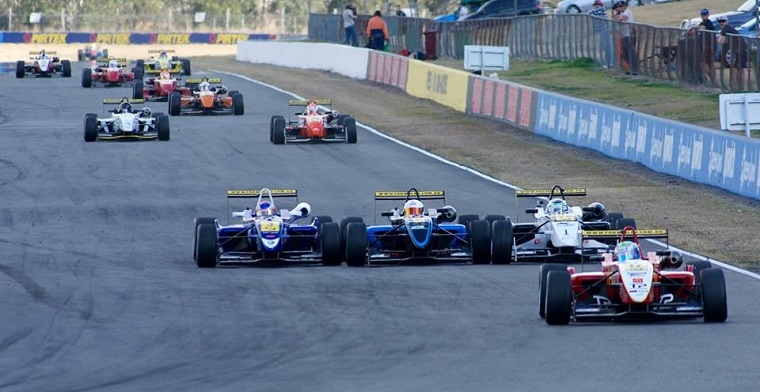 ---
July
05/07/2015: ROUND 4, Roland returns, Dennie's lightening start, Nathan's bad luck continues
Roland Legge was a welcome return to the field for round 4 and was on the pace immediately, he qualified 3rd only 4 hundredths of a second off pole. Dennie Rumble was 6th, Nathan Kumar's bad luck continued with an electrical fire in P3 ending his weekend. Rumble had the start of the season launching from 6th on the grid through the 2nd row to be fighting for the lead into turn 1, Legge's pace continued in Race 1 finishing 2nd just over a second behind Ricky Capo. Legge finshed the weekend 3rd overall with Rumble 2nd in National class.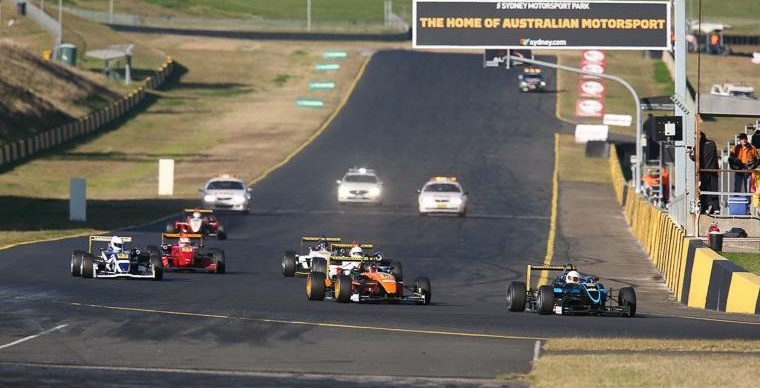 ---
June
26/06/2015: Legge takes the new F308 under the Mallala lap record
Roland Legge was back in the seat testing at Mallala Motorsport Park, giving the new Dallara F308 it's first run on Australian soil. Legge was up to speed quickly going under the lap record after 25 laps. R-Tek are hoping to debut the car at Sydney Motorsport Park in a couple of weeks.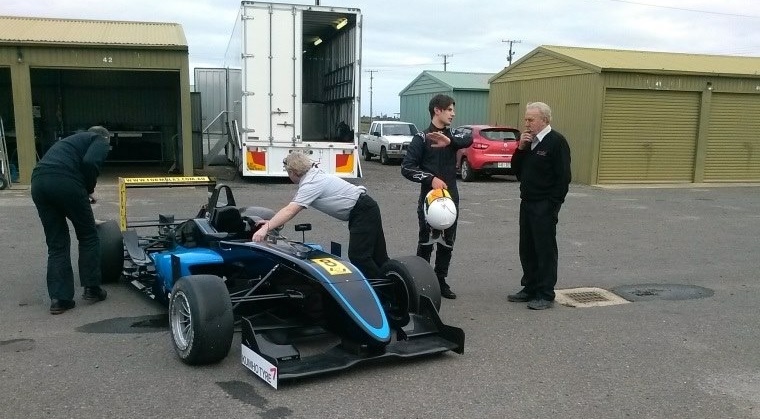 14/06/2015: ROUND 3, Kumar continues to improve at Winton
Nathan Kumar's steep learning curve continued at Winton with a little better luck than Phillip Island qualifying in 6th. Kumar's growing confidence was evident in race 1 having a lunge at National class leader Luke Spalding, unfortunately this ended in the gravel. Races 2 and 3 Kumar finished 6th and 5th to take 2nd for the National class for the weekend with lap times always improving.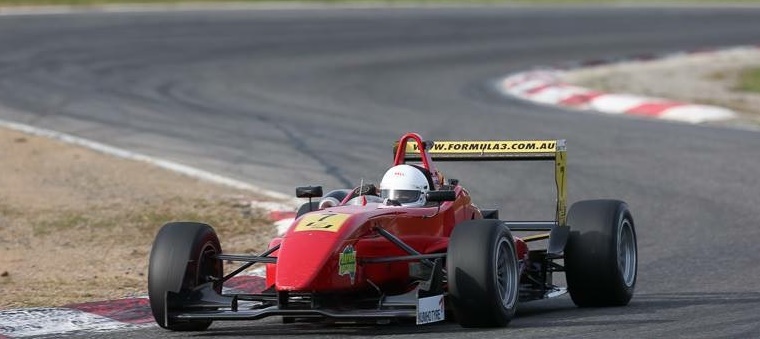 ---
May
24/05/2015: ROUND 2, Rumble joins R-Tek as Kumar's troubles continue
Dennie Rumble temporarily joined R-Tek whilst he awaits delivery of his own Dallara F307, he qualified 5th whilst Nathan Kumar improved enough to get inside the 115% mark to qualify 7th. Kumar's luck was to run out however at the end of race 1 with his Dallara crossing the line blowing heavy smoke, he did however manage to take 5th place behind team-mate Rumble who was 4th. Rumble was to take 4th and 5th in races 2 and 3 to take 2nd in the National class, Kumar unfortunately was done for the day.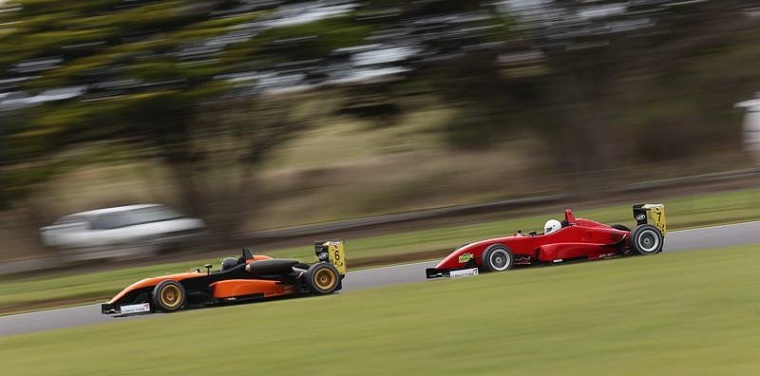 ---
March
29/03/2015: ROUND 1, Legge steps up as Kumar and Roberts debut
Roland Legge showed he's going to be one to watch with a great display of pace in a Dallara F307 car to take 2nd for the opening round of the Championship class. Legge qualified 2nd behind championship favourite Jon Collins, Andrew Roberts debut in Formula 3 went well qualifying 6th fastest in an older Dallara F304 ahead of newer '07 and '11 cars. Nathan Kumar's debut wasn't as successful missing the 115% cut-off time in qualifying. Roberts had a great race 1 climbing to 4th outright, Legge out-braked himself spinning off into the gravel recovering to fininsh 7th. Legge bounced back in races 2 and 3 to finish 2nd whilst Roberts continued his strong debut to take 5th and 7th sealing the Kumho Cup class win.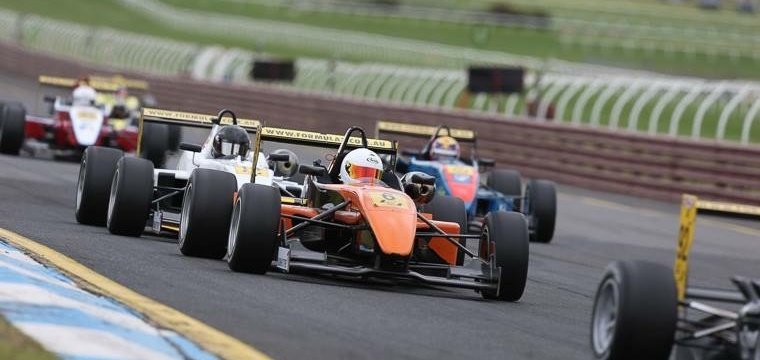 27/03/2015: R-Tek to field 3 cars for the season opener at Sandown
R-Tek Motorsport services will be fielding 3 cars for the season opener of the Australian Formula 3 Championship at Sandown Raceway. Reigning Kumho Cup Champion Roland Legge will be challenging for the Championship class, though driving an older Dallara F307 until the newly arrived Dallara F308 is ready. Nathan Kumar will take part in the National class in the other Dallara F307, although Kumar has very limited racing experience he has completed plenty of laps in testing. Formula Vee driver Andrew Roberts will be in the Dallara F304 for the Kumho Cup, Roberts turned some impressive times in January testing.

---
January
28/01/2015: Car 9 is having a Birthday
Car number 9 is having a birthday! New colour scheme, and a fresh engine ready for the Kumho Cup 2015. Any takers? Will need modest budget.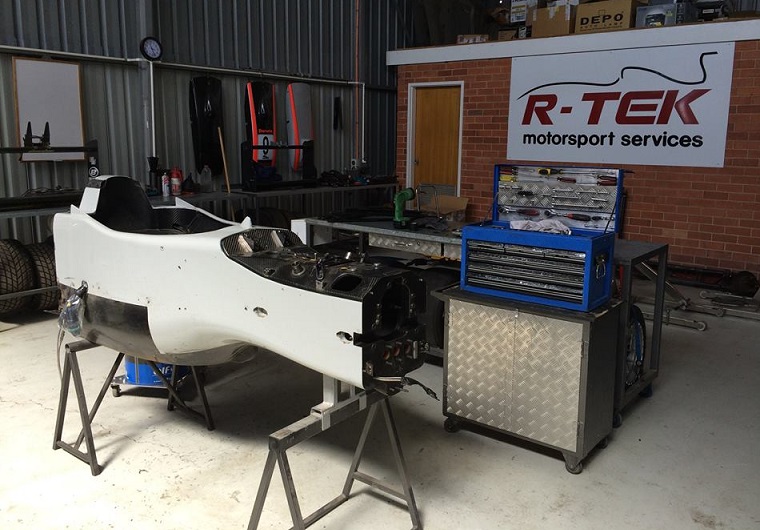 24/01/2015: 2 Rookies Test for R-Tek Motorsport Services at Mallala
R-Tek Motorsport Services was in action for the first time in 2014 Friday at Mallala Motorsport Park north of Adelaide. Sydney's Nathan Kumar had his 4th test gaining more valuable experience again doing consistent 1:09's. Local Adelaide Formula Vee driver Andrew Roberts had his first taste of a Formula 3 getting down into the low 1:08's (fastest F3 on the day) before time ran out. Both drivers are hoping to be on the grid in March.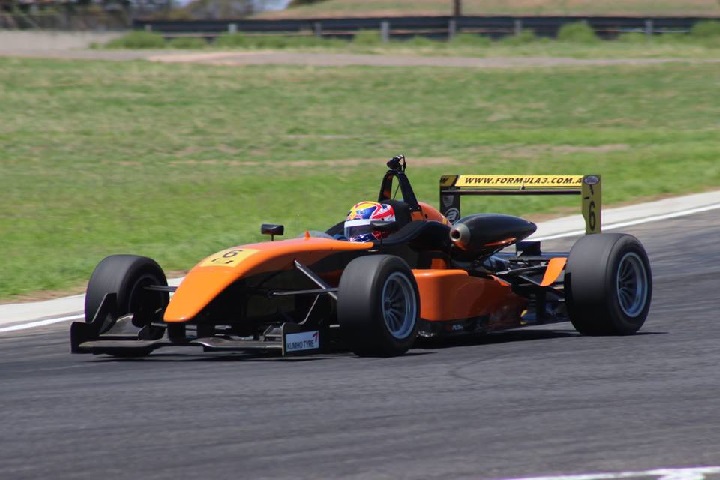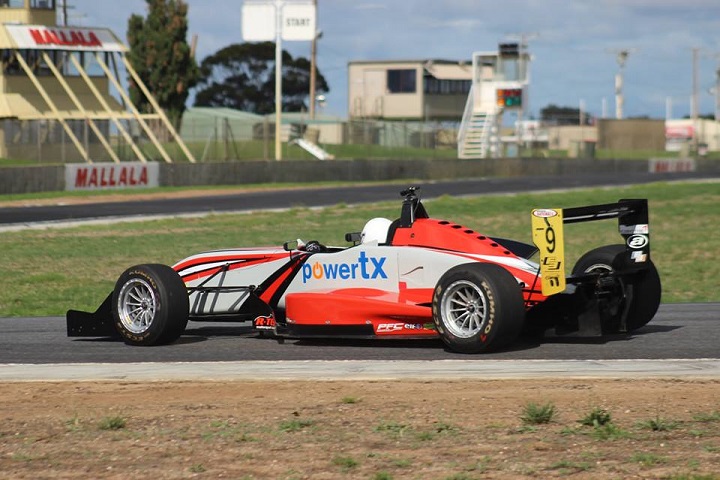 22/01/2015: NEW CAR - Dallara F308 on it's way
Our first F308/11 Dallara race car with lots of spares is being loaded right now. It sets sail for SA tomorrow and will be ready for our first race 27th March at Sandown.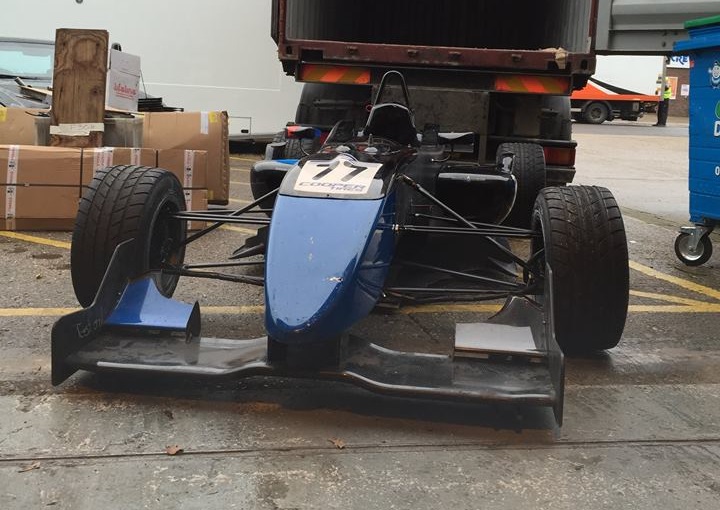 15/01/2015: FOR SALE - Dallara F307
To make way for the arrival of new F308 cars, we are offering one of our Dallara F307 cars for sale.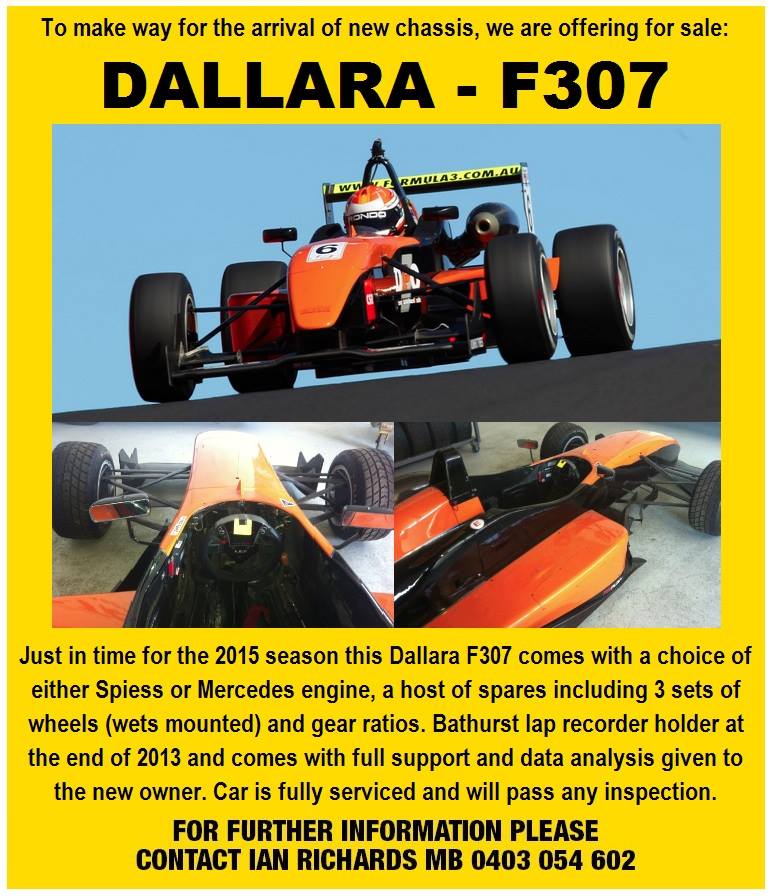 ---