News Archive: | 2020 | 2019 | 2018 | 2017 | 2016 | 2015 | 2014 |
2020 News
February
01/02/2020: KRUMINS REFLECTS BEFORE 2020: 3-time National Class Champion Roman Krumins has spent some time overseas reflecting before focusing on 2020.
The R-Tek Motorsport driver looked back at the past three years with some mixed feelings. "2017 and 2018 were deeply satisfying years in the R-Tek Motorsport Services Dallara F307 Opel Spiess. The car ran flawlessly every round and allowed me to fight fiercely for the championship in both years. Team spirit with R-Tek has always been and continues to be a major factor in the enjoyment of my motorsport. It was deeply satisfying to win the championships fairly and squarely those two years." Krumins reflected
2019 was different however for Krumins who battled to the final race of the 2019 season with South Australian Gerrit Ruff. "Whilst R-Tek continued to provide top level support, every round was plagued by some kind of mechanical or electrical gremlin of the type that is really elusive of diagnose and resolve. The result was that I had psychologically conceded the championship to Gerrit Ruff at the commencement of the final round at Queensland Raceway last November. As it turned out Gerrit had a mechanical failure in the feature race that provided me with the points advantage I needed to win the championship for the third time in succession. It's not the way I wanted to win the title; however, it's not how I would have deserved to lose it either. That's just how it goes sometimes." Krumins said.
Krumins is still undecided for 2020. "Well, we'll make those plans on our return to Australia after an extended vacation in Europe. Formula 3 Australia with R-Tek Motorsport is always a very attractive option. Formula 3 cars are a delight and deeply rewarding to drive. They really test your mettle and push your depth of commitment. They prepare you really well to take on any other motorsport category challenges. For me that preparation was really evident when I stepped into an LMP3 car for the first to get in 2017 at Spa Francorchamps. Yes, I'd like to do more of that this year, especially in the updated car with more power and aero as well as traction control and ABS. We'll see. I want to take Mary [Krumins wife] over to experience at least one of those LMP3 events in Europe this year." Krumins said.
"But back to F3 Australia. Let's see what we do there in 2020. R-Tek Motorsport Services is certainly the team that provides professional support and well prepared cars at a price that represents good value in today's market." Krumins added.
Like Krumins who's 3 Titles in a row has never been done in the category before, his R-Tek Motorsport teammate in 2019, John Magro also had a record breaking year with his record-breaking winning streak of 18 races. The only question remaining is: Will Krumins and Magro be back in 2020 to try to extend their current record-breaking streaks.

---
01/02/2020: DRIVES FOR 2020 STILL AVAILABLE: If you can drive a Kart, Formula Vee, Formula Ford or ANYTHING ELSE! - you can drive a Formula 3 car with a proven safety record for a lot less than you might think! These cars are the Fastest cars per dollar in the country - Get the facts. Ring Ian on 0403054602 anytime.
Drives still available for 2020. For further information and what we can do for you, test days, costs etc. Call Ian Richards on 0403 054 602

| | | | | | | |
| --- | --- | --- | --- | --- | --- | --- |
| | Car | | Class | Status | Driver | |
| | Dallara F308 Mercedes | | Championship | Available Now | TBA | |
| | Dallara F307 Spiess | | Championship or National | Available Now | TBA | |
| | Dallara F307 Spiess | | Championship or National | Available Now | TBA | |
| | Dallara F304 Spiess | | National | Enquiry Only | Andrew Roberts (SA) | |
---
January
04/01/2020: 2020 DRIVES: R-Tek Motorsport Services are currently taking expressions of interest for the 2020 Australian Formula 3 Championship.
For further information and what we can do for you, test days, costs etc. Call Ian Richards on 0403 054 602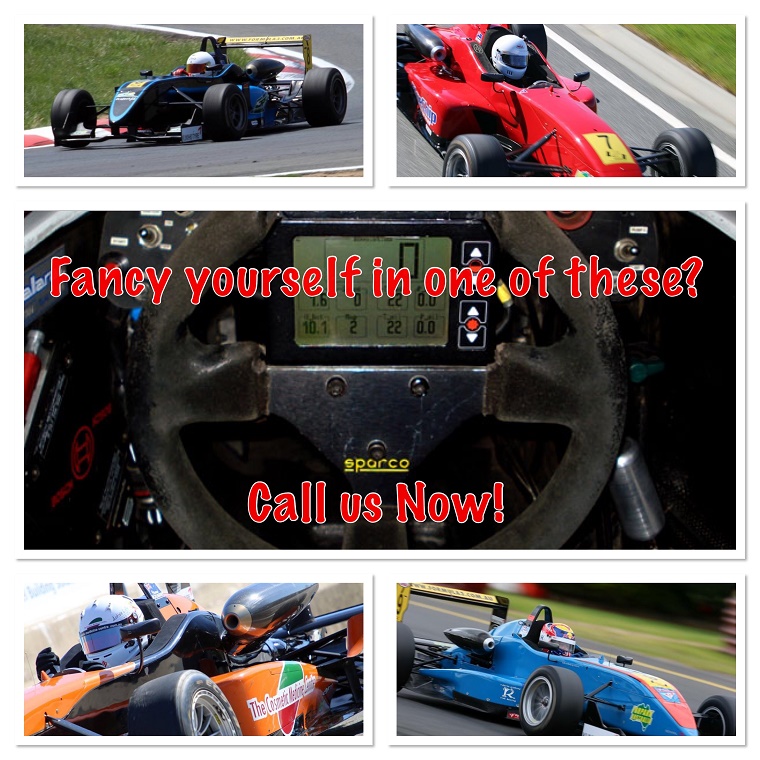 ---